Services We Provide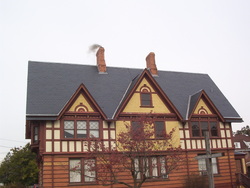 All Saints Church, Lakewood NJ
Slate, Tile, Sheet Metal, Asphalt Shingle, Wood Shingles and Shakes, EPDM, TPO, PVC, Modified Bitumen, Built up roofs and Waterproofing

New Roofing

Roof Repair
Leak and Emergency Repairs
Roof Replacement
Maintenance Work

Consulting
Gutter, Soffit, and Fascia Work
Sheet Metal Work
Historical Restoration

---
About Us

Fisk Chapel, Fair Haven NJ
Alper Enterprises Inc. has been in existence since September 1991. It is owned and managed by Craig A. Alper and employs a staff of approximately twenty.

Craig Alper's professional experience includes over thirty years in the roofing business in all capacities from journeyman to General Manager of one of the largest roofing contractors in the country. His experience includes the successful completion of roofing projects throughout the United States and abroad.

Professional development of the staff includes attendance at training seminars and courses offered by the Roofing Industry Educational Institute, NRCA, Carlisle Syntec Systems, Firestone Building Systems, Versico and other roofing manufacturers.

We are qualified, able and willing to repair or install any and all systems such as: Built up, Modified Bitumen, EPDM, PVC, Hypalon, CPE, TPO, Cold Process Coatings, Slate, Shingle, Wood Shakes, Tile, and Metal Roofs.

We are qualified by/licensed applicators of the following: Ecostar, Flex, W.R. Grace, GAF, Garland, Hickman, Ludowici, Carlisle Coatings and Waterproofings, Versico Roofing & Waterproofing Systems.

We are qualified and approved to do work by the NJ Historic Trust.

We are members of Associated Builders & Contractors, National Slate Association, National Roofing Contractors Association, and the Cedar Shake & Shingle Bureau.


---